Search
Product Categories
NOTE: Indicated PRICES and/or PROMOS on this website are applicable to Metro Manila only.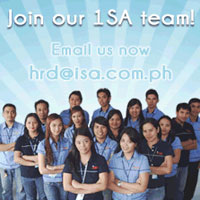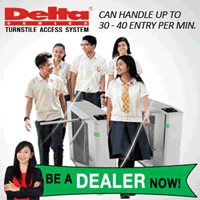 CS 5000
Description
Features
Specifications
Walk-Through Metal Detector - MT 5500
With enhanced microprocessor-based technology, the CS 5000 provides improved detection performance and increased operating flexibility.It offers many of the same features found on our advanced walk-through units and can be used in virtually any security checkpoint application. The CS 5000 is an affordable unit for the budget-conscious.
Access Control Panel
The Access Control Panel is designed for use by supervisory personnel with specific security codes. It allows authorized users to change settings such as Program and Sensitivity. Security of the detector's settings is maintained with a non-resettable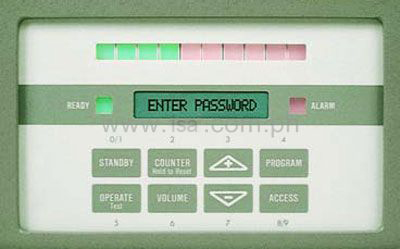 sequence code, which indicates every attempt at access to the settings. A tamper alarm sounds within 10 seconds after the Access touchpad is pressed unless a proper access code is entered. The CS 5000 includes 20 standard programs, which are maintained in an electrically erasable non-volatile memory, for the ultimate in security application versatility. The unit maintains all settings even when disconnected from power and does not require recalibration when the unit is turned OFF and back ON. No battery is required for memory retention. When the unit is in operation, a self-test of all systems is performed continuously with any failures or problems reported on the LCD.
Overhead Control Unit
LCD Display, alarm lights, LED bar graphs and control touchpads plus all wiring, connections and electronics are integrated into a single lockable overhead compartment which eliminates exposure of wires and external control box.
Microprocessor Controlled
State of the art microprocessors ensure maximum sensitivity and flexible programming.
Detection Field
Unique coil design offers multidimensional detection field with total uniformity both horizontally and vertically. This design, plus a choice of three levels of ankle level boost, eliminates traditional hot spots and weak signals. Target detection is precise regardless of its location in the archway.
Audible and Visual Alarms
Audible alarm and red LED Alarm Lights indicate metal has been detected. The Red LED alarms light appears even when the audible alarm has been turned OFF. Green READY LIGHT indicates the unit has full power and is ready for operation.
| | |
| --- | --- |
| Name | Details |
| Operating Temperatures | -4°F (-20°C) to + 158°F (70°C); Humidity to 95% non-condensing |
| Power | Fully automatic 100 to 240 VAC, 50 or 60 Hertz, 5 watts; no rewiring, switching or adjustments required. Power supply meets UL, CSA, TUV and VDE standards. |
| Weatherproofing / Foreign Object Protection Standards | Meets IP 31, IEC Standard. "Degrees of Protection provided by Enclosures," CEI 529. |
| Tamper-Proof | Dual-level access codes required to set or change all sensitivity settings and detection programs; one level for use by supervisors in selecting programs and sensitivity and the other for initial set-up and overall control; non re-settable sequence code logs all attempts to access the settings. Audible alarm reports any unauthorized attempt at access |
| Construction | Attractive scratch and mar-resistant laminate with resilient end caps; control panel and cross members of heavy duty aluminum. |
| Control Outputs | Solid state switches (low voltage AC or DC) for operating external alarms and control devices. |
| Traffic Counter | Built-in and re-settable with current reading easily available on LCD panel |
| Synchronization | Multiple channels permit several CS 5000s and other Garrett detectors to operate simultaneously in close proximity |
| Interference Suppression | 100% sensor coil Faraday shielding; special Garrett built-in circuitry for noise suppression and ignoring x-ray monitors. Physical interference minimized by coil design and circuitry |
| Alarms | Green Ready light indicates unit is operational; Red alarm lights and audible alarm is activated when the target amount of metal is detected. |
| Infrared Sensor : | Improves analysis of detection signal; increases throughput; helps eliminate "false alarms" also provides accurate traffic counter. |
| Masking | Programs designed to eliminate the problem of dissimilar targets canceling each other |
| Warranty | 1 year, parts and labor |
Passageway Overall
Overall Exterior
Control Panel Shipping Box
Width
30" (0.76 m)
35" (0.9 m)
33.5" (0.851 m)
Height
80" (2 m)
87" (2.2 m)
91.5" (2.324 m)
Depth
23" (0.58 m)
23" (0.58 m)
6.25" (0.159 m)
Weight:
136 lbs (61.8kg)
Regulatory Information
The CS 5000 meets Electrical Safety and Compatibility Requirements for CE, FCC, CSA, IEC, ICNIRP and IEEE.
The CS 5500 meets U.S. and International regulatory requirements for electromagnetic safety. Extensive research has found no information that would indicate Garrett products have adverse effects on pregnancy, medical devices or magnetic recording media. However, directives by physicians and medical device manufacturers regarding metal detectors should be followed.