Search
Product Categories
NOTE: Indicated PRICES and/or PROMOS on this website are applicable to Metro Manila only.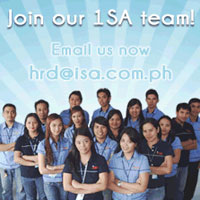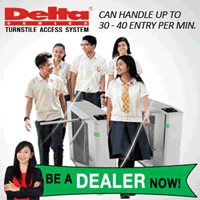 MS 3500
Description
Features
Specifications
MagnaScanner Walk-Through Metal Detector - MS 3500
The highly rugged MS 3500 walk-through unit is designed for use in jails, prisons and other high security facilities and offers maximum metal detection performance with minimum maintenance.
It is built to withstand outside weather conditions and rough handling while maintaining Garrett's highest quality of metal detection.
Access Control Panel
Eight (8) touchpad controls perform all control functions on the MS 3500 and clearly report operation information with alphanumeric displays. Touchpads include: STANDBY. OPERATE, NUMERIC 2, VOLUME, + / -, PROGRAM and ACCESS.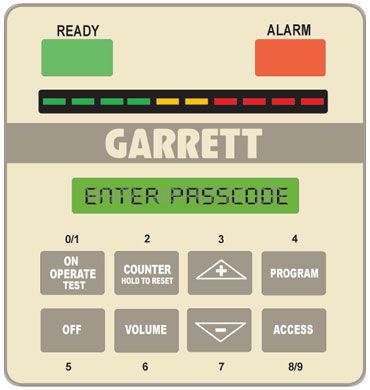 The Movable Display Keypad can be positioned inside the locked and weatherproof Overhead Control Unit or attached to the exterior of the unit. When the STANDBY touchpad is pressed, the unit goes into a low Power Mode, and can be returned to full operation by pressing the OPERATE touchpad. Pressing the OPERATE touchpad initiates a comprehensive, automatic self-test and diagnostic program for instant fault detection. Faults are indicated on the LCD Display.
REGULATORY INFORMATION
Performance:
- Federal Aviation Administration of the United States requirements for certification of walk through metal detectors.
Public Safety:
- Institute of Electrical and Electronics Engineers: "A standard of Safety Levels with Respect to Human Exposure in Radio Frequency Electromagnetic Fields, 3 kHz to 300 GHz" IEEE C95.1 – 1991 section 4.12.
-Occupational and Safety Health Administration: Radiation Protection Guide, CFR 1910.97 section (2)i.
- National Institute of Law Enforcement and Criminal Justice: Standards for Walk-Through Metal Detectors for use in Weapons Detection, NILECJ-STD-0601.00 section 4.11.
- Canada Health and Welfare Radiaion Protection Bureau Safety Code, RPB-SC-18 section 3.2.2 which addresses the issue of electromagnetic effects on cardiac pacemakers.
- International Commission for Non Ionizing Radiation Protection (ICNIRP) "Reference levels for general public exposure".
- Extensive research has found no information that would indicate Garrett products have adverse effects on pregnancy or medical implants.
Magnetic Recording Media:
- United States Department of Commerce: "Care and Handling of Computer Magnetic Storage Media", NBS Special Publication 500-101. The peak magnetic field of less than one Gauss will not affect magnetic recording media, including magnetic tape, diskettes and cards.
Weatherproofing/Foreign Object Protection:
- International Electrotechnical Commission IEC 60529 "Degrees of Protection provided by Enclosure", IP Class 55
Electrical Safety:
Power supply meets UL, CSA, TUV, and VDE standards.
| | |
| --- | --- |
| Name | Details |
| Operating Temperatures | -4°F (-20° C) to +158°F (70°C); Humidity to 95% non-condensing |
| Power | Fully automatic 100 to 240 VAC. Power supply meets UL, CSA, TUV and VDE standards |
| Weatherproofing / Foreign Object Protection Standards | Meets IP 55, IEC Standard. "Degrees of Protection provided by Enclosures," IEC 60529 |
| Tamper-Proof | All detection electronics can be secured behind a key-lock door in the Overhead Cap Assembly. Dual-level access codes require to or changes all sensitivity settings and detection programs; one level for use by supervisors in selecting programs and sensitivity and the other for initial set-up and overall control; non re-settable sequence code logs all changes made whenever sensitivity codes are accessed. Audible alarm reports any unauthorized attempt at access. All connectors are keyed to ensure proper connections. |
| Construction | Rugged, heavy-duty 3/32" armor aluminum plates with resilient corner caps for protection against maximum physical abuse. |
| Control Outputs | Solid state switches (low voltage AC or DC) for operating external alarms and control devices. |
| Synchronization | Multiple channels permit several MS 3500s and other Garrett detectors to operate simultaneously in close proximity |
| Interference Suppression | 100% sensor coil Faraday shielding; RFI interference reduced with hardware; special Garrett built-in circuitry for noise suppression and ignoring x-ray monitors. Physical interference minimized by coil design and circuitry |
| Alarms | Ready light indicates unit is operational; alarm lights and audible alarms are activated when the target amount of metal is detected. |
| Masking | Programs designed to eliminate the problem of dissimilar targets canceling each other. |
| Warranty | 1 year, parts and labor |
Passageway Overall
Overall Exterior
Shipping
Shipping
Width
30" (0.76 m)
50" (1.3 m)
26" (0.66 m)
26" (0.66m)
Height
80" (2 m)
89" (2.3 m)
56" (1.42 m)
95" (2.41m)
Depth
20" (0.50 m)
20" (0.50 m)
11" (0.28 m)
11" (0.28m)
Weight:
242 lbs. (119.7kg)